Ya ha probado Jel'd Stain H2O, nuestro tinte a base de agua?
Es un tinte gelatinoso para madera de interior de bajo COV, poco olor, fácil de aplicar y no es inflamable.

(Product Spec Data Sheet - Press Release)
Aviso - Notice - Avis
The Wood Kote offices will be closed for the vacations, 02 July – 13 July 2017.
Las oficinas de Wood Kote estarán cerradas durante las vacaciones, 02 de julio – 13 de julio de 2017.
Les bureaux de Wood Kote seront fermés pendant les vacances, le 02 juillet – 13 juillet 2017.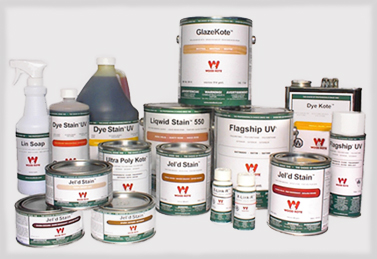 Con el fin de ofrecerles a nuestros clientes un mejor servicio, hemos transferido nuestra tienda "online" a Super F Paint, vendedores de nuestra línea de productos.
Aparte de la línea completa de productos Wood Kote, Super F Paint tiene una gran variedad de acabados, pinturas, pinceles, brochas, lijas, etc., de renombradas marcas tales como Devoe, Matrix Automotive, Mirka Abrasives, Wooster Paint Brushes, Corona Paint Brushes y muchos más.